Meknes is one of the imperial cities in Morocco that is often overshadowed by Fez or Marrakech. However, this historic city has so much to offer visitors. From impressive architecture and ruins to lively markets and museums, Meknes is full of fascinating sights.
Read on for the top things to do in Meknes, Morocco in 2023/2024.
Overview
Meknes was an important imperial city in the 17th century when it was made the capital of Morocco by Sultan Moulay Ismail. The sultan's building projects transformed Meknes into a spectacular city with grand gates, enormous granaries, palaces, mosques, and more.
Today, Meknes boasts many fantastic historic tourist attractions that make it well worth visiting on a trip to Morocco.
Explore the Massive Bab Mansour Gate
One of Meknes' most famous sites is the grand Bab Mansour gate, which serves as the dramatic entrance to the old medina. Bab Mansour was built in 1882 by Sultan Moulay Ismail's son and successor.
At over 50 feet tall and ornately decorated, it is one of the best-preserved Almoravid-era gates in Morocco. Be sure to pass through this impressive gate on your way to explore the medina.
Wander Through the Meknes Medina
The historic heart of Meknes is its old walled medina that dates back to the 9th century. Wandering through its narrow lanes lined with whitewashed houses, shops, restaurants, and historic sites is a highlight.
Make sure to stop at one of the cafes in Meknes' main square, Place El-Hedim, to do some people watching. The medina's covered souks are also worth exploring to browse wares like carpets, leather goods, and jewelry.
See Heri es-Souani or the Royal Stables
Just outside the medina's walls, you'll find the remains of Heri es-Souani, the enormous royal granaries, and royal stables built by Sultan Moulay Ismail in the 17th century.
At one point, these could hold enough supplies to feed 12,000 horses for a whole year.
Walking through the extensive vaulted chambers gives you an idea of the grand scale of Moulay Ismail's building projects. Parts have been turned into an interesting museum on Meknes under Moulay Ismail's reign.
Visit the Mausoleum of Moulay Ismail
The Mausoleum of Moulay Ismail in the Meknes medina is the resting place of Morocco's most legendary sultan who built the imperial city in the 1600s.
The site is open to non-Muslims to view the ornate decoration. Marvel at the detailed zellij tilework, carved stucco, and painted wood ceilings of this sacred site. Note that visitors should dress conservatively out of respect.
See Bab Bou Jeloud
Bab Bou Jeloud is one of the grand gates of the medina, along with Bab Mansour. Built in 1913, it has beautiful blue and green tilework framing the entrance.
Passing through, you'll find yourself in a busy section of the medina's market area. Bab Bou Jeloud makes a pretty backdrop for photos in Meknes.
Admire Dar Jamai Museum
For a glimpse into the lavish lifestyles of Meknes' imperial era, visit Dar Jamai Museum.
This elegant palace was built in 1882 for the Jamai family, who served as government ministers. It now houses a museum exhibiting ornate furnishings, tilework, carpets, and other artifacts from the 17th-20th centuries.
The Andalusian gardens are also beautifully maintained.
Stop at Moulay Idriss Zerhoun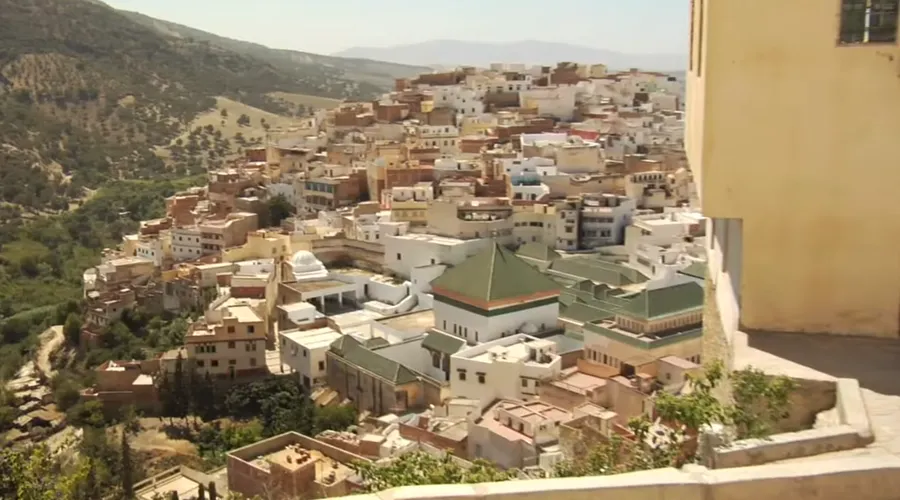 The town of Moulay Idriss Zerhoun near Meknes is named for Morocco's most revered saint, Moulay Idriss I, who brought Islam to Morocco in the 8th century.
His tomb and mosque here make Moulay Idriss a major pilgrimage site. Non-Muslims cannot enter the mosque but can see it from the large square
The town's hilltop setting, white houses, and olive groves are also worth seeing.
Marvel at the Roman Ruins of Volubilis Near Meknes
The ancient Roman ruins of Volubilis sit just 30 km north of Meknes and make an easy day trip.
Dating back to the 3rd century BC, the UNESCO World Heritage archaeological site has many remarkably intact mosaics, monuments, and buildings to discover.
Marvel at the grand public squares and arches as you wander among the ruins. Local guides can really bring Volubilis' fascinating Roman history to life.
Visit the Bou Inania Medersa
This stunning 14th-century Koranic school, located 70 km away from Meknes medina, is one of Morocco's finest examples of Merinid architecture. The interior is elaborately decorated with carved wood, stucco, and colorful zellij tilework.
Don't miss the beautiful central courtyard with its star-patterned tiling.
Explore the Habs Qara Prison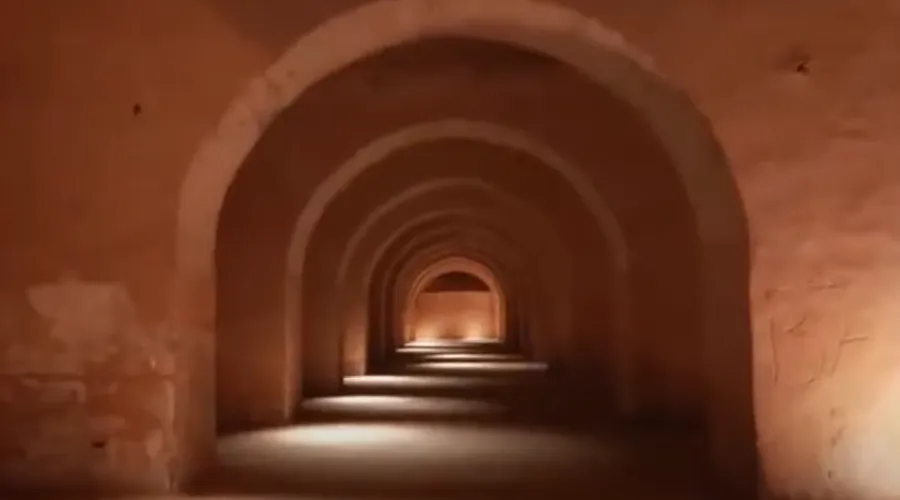 Also part of Moulay Ismail's imperial building works, this former underground prison is an intriguing site to visit.
Descend into the dark, cramped cells to learn about the prison's history and notorious inmates like slaves and Christian sailors held for ransom.
Spend Time at Place El Hedim Square
Place El-Hedim is the large public square at the heart of Meknes' medina. Lined with restaurants and cafes housed in classic Moroccan buildings, it's a great spot to sit and soak up the local atmosphere.
In the evening, the square really comes to life as it fills with food stalls, acrobats, musicians, and more. The bustle of Place El-Hedim gives you a taste of local nightlife.
See the Imperial City Ramparts
Some kilometers of the 40-kilometer-long imperial city walls built by Sultan Moulay Ismail in the 17th century still stand around Meknes.
You can walk sections like the northern wall stretching from Bab Berdaine to Bab el-Khemis to admire their sheer size and take in views of the medina and surrounding areas.
They demonstrate the grand scale of Meknes as the imperial capital.
Visit Dar El Makhzen or The Royal Palace
The Dar El Makhzen was the 17th-century royal palace complex of Sultan Moulay Ismail.
While most now lie in ruins, the adjacent museum offers a peek into the sultan's court. Displays include elaborate woodwork, decorative arts, and an exhibition on Moroccan Jewish history and culture.
The Andalusian gardens surrounding the museum are a peaceful oasis.
Shop in the Souks
Meknes has wonderful traditional souks (markets), though they are more low-key than those in Marrakech or Fes.
The covered bazaars winding through the medina are full of stalls selling handmade items, jewelry, lanterns, carpets, and leather goods. Bargaining is expected when shopping in the souks.
Look for souvenirs like a traditional handwoven Meknes rug.
See Lahboul Gardens
The Lahboul Gardens were built in the 20th century in Meknes' ville nouvelle (new town) across from the train station.
Set on over 55 acres, they are a popular, peaceful green space. Stroll among palm and cypress trees, rose gardens, and fountains. Have a picnic or stop for a tea in the pavilion.
Lahboul Gardens offers a pleasant change of pace from sightseeing.
Visit the Museum of Moroccan Art
Housed in a former 1930s movie theater, this excellent museum displays amazing traditional Moroccan arts and crafts.
Wander among galleries exhibiting antique rugs and textiles, historic pottery, intricate wood carvings, traditional costumes, jewelry, musical instruments, and more from all over Morocco.
It's an excellent overview of Moroccan arts and craftsmanship through the centuries.
Relax at a Hammam
After exploring Meknes' sights, make time to relax at a traditional hammam, or public bathhouse.
These steam rooms offer a cleansing ritual of hot steam, scrubs, and massage that leaves you feeling renewed. Hammams in Meknes range from simple neighborhood spots to upscale historic venues like the Hammam Dar El-Ma.
It is a great way to experience Moroccan bathing culture.
Sip Mint Tea in the Medina
One of the great pleasures of Morocco is sitting down for a cup of mint tea, and Meknes' medina offers many spots to stop for one.
Find a cafe overlooking Place Hedim, next to Bab Mansour, or in one of the Covered Bazaars to watch the world go by over the rituals of Moroccan tea.
The hospitality and conversations that come with it are just as memorable.
See the Ancient Granaries
Some of Moulay Ismail's enormous imperial-era granaries can be found near Place Lalla Aouda.
Built in the 1600s, these fortified grain stores had enough capacity to feed entire armies. Their heavy stone architecture hints at the power of Meknes under Ismail.
Tour Dar El Makhzen's museum exhibit to learn more about his public works. Seeing the granaries helps you understand Meknes' period as the imperial city.
Enjoy Local Street Food
Meknes has some fantastic street food to sample. Head to the stalls that are set up in the evenings around Place Hedim to try favorites like kefta and merguez grilled meat sandwiches, harira soup, and Moroccan crepes.
The night market near Bab el-Mansour also has very tasty options. Eating street food is an essential Moroccan experience.
Visit the Grand Mosque of Meknes
One of the top religious sites in Meknes is the city's Grand Mosque. Also known as the Mansour Mosque, this impressive structure was commissioned in the 18th century by Sultan Abdallah bin Ismail.
The mosque is known for its towering minaret, which stands over 130 feet tall and is decorated with ornate stone carvings and zellij tilework.
The interior of the mosque features a large prayer hall supported by rows of marble columns. The mihrab, an ornate alcove indicating the direction of Mecca, is elaborately decorated in colorful tilework.
Beautiful chandeliers hang from the ceiling. Non-Muslims are not allowed inside the prayer hall but can still admire the exterior architecture and decorations of this magnificent mosque.
The Grand Mosque is located just west of the medina near Lahboul Gardens, so be sure to pass by this iconic landmark during your explorations of Meknes. It provides a tranquil spiritual oasis amid the bustle of the imperial city.
Summary of Top Things to Do in Meknes
Meknes is a historic imperial city in Morocco that is filled with fascinating sights for visitors. Some of the key highlights and attractions in Meknes include:
Exploring the grand Bab Mansour gate, one of the most famous landmarks in Meknes. Pass through this dramatic and ornately decorated entrance to the old medina.
Wandering through the narrow lanes, souks, historic sites, and main square of the Meknes medina, which dates back to the 9th century. Don't miss people watching from one of the cafes around Place El-Hedim.
Seeing the remains of the enormous 17th-century royal granaries and stables at Heri es-Souani, gives a sense of the scale of Meknes as an imperial city.
Visiting the resting place of Sultan Moulay Ismail at his elaborately decorated Mausoleum in the medina.
Marveling at the ancient Roman ruins at nearby Volubilis, including remarkably intact mosaics, columns, and arches.
Browsing for handicrafts and bargains in Meknes' covered souks selling carpets, leather goods, jewelry, and more.
Relaxing at one of Meknes' historic hammams, or public baths, for a traditional steam and cleansing experience.
Spending time soaking up the atmosphere of Place El-Hedim, the main public square, and heart of Meknes' medina.
With its imperial monuments, lively markets, museums, and more, Meknes offers a more laidback but equally fascinating experience compared to tourist hubs like Fes or Marrakech.
Use this guide to the top attractions and activities to make the most out of your visit to this historic Moroccan city.
Frequently Asked Questions about Visiting Meknes
How do I get to Meknes?
Meknes is conveniently located about 1.5-3 hours by train or bus from major cities like Fez, Rabat, Casablanca, and Tangier. You can also drive to Meknes fairly easily. The best way to arrive depends on where you're coming from.
When is the best time to visit Meknes?
The best times to visit Meknes are in the Spring (March to May) or Fall (September to November), when the weather is warm but comfortable. Summers can be very hot. Winters are colder but tourist crowds are smaller.
How many days do I need in Meknes?
2-3 days is sufficient to see the major sights in Meknes. With more time, you could also take day trips to Volubilis, Moulay Idriss, and other nearby destinations. Meknes can also be seen as a day trip from Fez.
What is there to do in Meknes besides sightseeing?
In addition to its historic sites, Meknes has great shopping in its souks and museums exhibiting Moroccan arts and culture.
The medina is wonderful for exploring on foot and absorbing local life. Day trips to the countryside are worthwhile. Meknes also has beautiful parks and gardens for relaxing.
What are the best souvenirs to buy in Meknes?
Some of the traditional Moroccan souvenirs worth shopping for in Meknes include colorful babouche slippers, handwoven rugs, leather goods, tea sets, ceramics like tagines, silver jewelry, and carved wood items.
The souks in the medina offer an authentic shopping experience.
Is Meknes safe to travel to?
Yes, Meknes is generally very safe to visit. Like other popular tourist destinations in Morocco, there are some scams to be aware of, but violent crime is rare. Use typical precautions as you would when visiting any new city.
What is the local cuisine like in Meknes?
Meknes has delicious Moroccan food like tagines, couscous, grilled meats, seafood, and b'stilla. Specialties include chicken pastilla and medfouna (stuffed bread).
Be sure to sample street food favorites like kefta sandwiches too! Mint tea is the traditional drink of Morocco. I hope these tips help you plan out your visit to the fascinating imperial city of Meknes!
Have a nice tour!